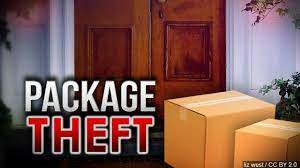 Package Theft
11/29/2022
---
We are deep in the holiday season, and while we're all preparing to spend time with our loved ones, many families are preparing to pass gifts to one another. Many families have ordered hard-to-find items on popular websites and have had them delivered straight to their homes. Unfortunately, this is when we also tend to see a rise in theft, and packages are an easy target. 
No matter what you'd like to call them: package pilferers, porch pirates, or truck stalkers, we refer to them as one thing: thieves. While we understand that it may be challenging to know the exact time when a package will be delivered to your home or business, there are some things that you can do to protect your valuable items from being stolen. 
Track Your Package
The simplest things are the easiest things to do. Using an app to track the location of your goods will not only let you stay up-to-date on the arrival of your packaging, but it will also let you know about any delays or expedited delivery dates. Many websites have built-in block-by-block tracking integration and push notifications to keep you informed of what's going on with your deliveries. 
Install A Camera To Watch Your Entrances
Technology has advanced a lot in the past decade or so & along with these advancements, one of them is the existence of cameras built into doorbells. Devices such as RING, Blink & NEST video doorbells connect directly to your smartphone to instantly show individuals who approach your doorstep. 
Not only is this good for tracking incoming package deliveries, but it can also be an added safety feature to the security of your home. Most of the apps accompanying these devices also include the ability to record footage, so just in case someone is bold enough to attempt to steal from your home, you have video evidence to report to the local authorities. 
Form A Good Relationship With Your Neighbors
Your last line of defense is communicating with the people in your neighborhood, especially the neighbors directly connected to your home. Letting them know that you're expecting a package if the situation arises that you're not home can be an extra set of eyes to be on the lookout for your package. 
The holidays should always be associated with joy, lasting memories & sharing things that you treasure with your loved ones. Knowing the delivery schedule of your packages, protecting your home with video doorbells, and having excellent communication with your neighbors can stop your holiday experience from leaving a sour taste in your mouth.